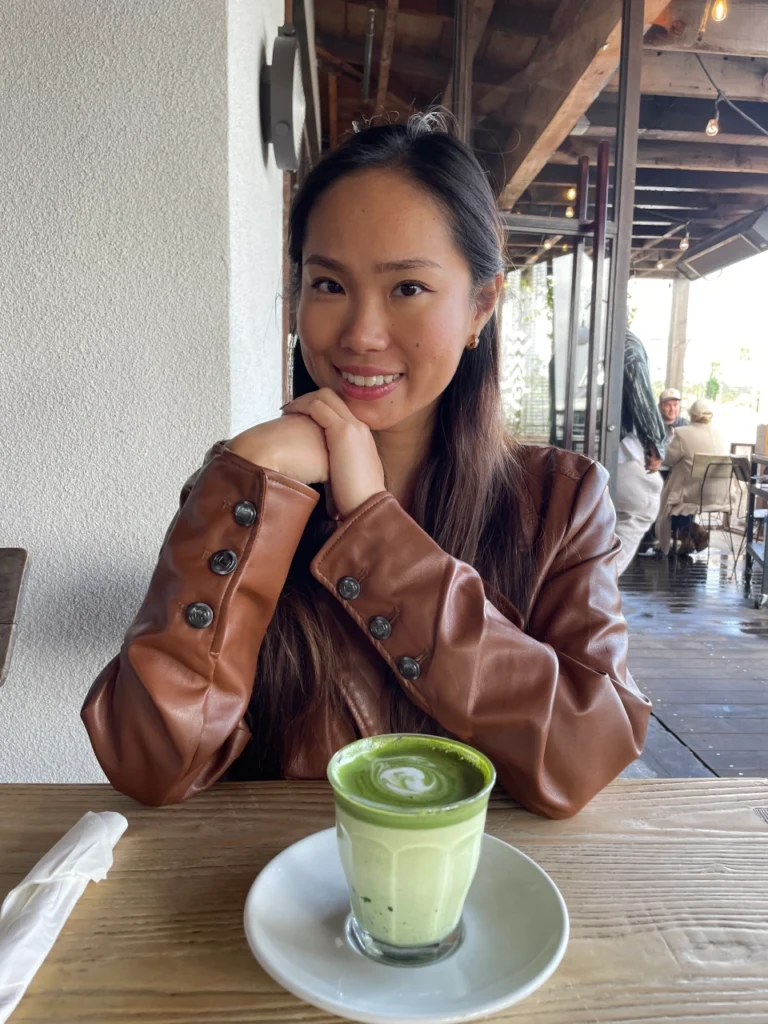 At OLN Inc, we've had the privilege to meet many individuals over the years who have highlighted our core values, but none more so than our Territory Sales Leader, Bella Dong. We preach the importance of having no limiting beliefs, and from day one, Bella has shown that she will not allow any obstacle to prevent her from developing her skills, hitting her goals, and growing her career!
Originally from Ho Chi Minh, Vietnam, Bella knew from an early age that she wanted to spread her wings and see the world. At age eleven, she took a trip to Sydney, Australia, which ignited a desire to venture out and learn about new cultures. She graduated from high school in Sydney and then chose the United States as her next destination. While in college in the US, the COVID-19 pandemic began. Quarantine started while she was in Vietnam, so she took two years off of school and began teaching English in her home country.
"At first, this seemed like a waste of my youth, but it then turned out to be a blessing in disguise. I needed this period of time in my journey to find myself. It taught me how to cohabitate with my family since I moved out at a young age, made me appreciate the country where I am from, and, most importantly, unleashed the leader side of me that I never knew I possessed."
At twenty-four years old, Bella has developed a no-quit mentality. When plans change, she adapts, and it's this mindset that has helped her thrive here at OLN Inc. Since starting with us this past September, she's earned a promotion, concreted herself as an asset, and grown into a leader others are inspired by! To honor and celebrate her journey with us so far and to inspire you to push yourself out of your comfort zone, we asked her a few questions about her life and goals!
Bella, what is your greatest quality?
I take pride in being tenacious in every situation. I do not take "no" for an answer easily. I was transitioning from one campaign to another at OLN Inc and had a challenging phase. I did not earn anything for three weeks in a row. At this point, I knew I had to make a critical decision. I hate quitting, so I decided to "up" my student mentality game and came through. I started reaching out for help and spending time learning until I started making money again.
Do you see yourself working in our industry long-term?
I can see myself thriving in the business industry because of the way I am with clients using people skills and high emotional intelligence. Business is definitely tough, but I am confident that I will conquer it because I do not like to lose.
Would you say you are more team or independently motivated?
I am 60% team-oriented and 40% independently motivated. I enjoy working with teams a bit more because I like the fun factor of making money with my team and, at the same time, coaching them and sharing my knowledge. I work independently at times when I need to push myself to achieve personal goals.
Let's shift gears a little and talk about your OLN Inc journey. How has your career grown since starting with us?
I was promoted from being a Sales Representative to a Sales Leader. I have learned many sales skills and had significant personal development since I started working at this company. I am now learning how to attract and replicate talent.
What has been your favorite thing about our business?
I love the fact that everybody here helps one another and everything is a friendly competition. We work independently to earn our own paycheck but support each other because the more we grow as a team, the closer we are to expansion.
Elijah is a great leader and the best coach I've known. I love to hear his encouragement and constructive feedback because my success is in his best interest.
Talk about what led you to apply to work with us.
I learned that I have great public skills and gain energy from speaking to new people, so I wanted to add it to my daily life. I applied for an account executive role and stumbled upon OLN Inc on Linkedin. I accepted the offer because I can see a clear path to ownership as long as I prove to myself that I am capable of carrying out the duties of a business. I have always had business in mind because I can be in full control of my career.
You're beginning to interview candidates. When speaking with them, what qualities are you looking for?
I value a great student mentality, perseverance, and the ability to be true to oneself. Anything can be taught but a student mentality and a hunger for success. A combination of student mentality and perseverance will get anybody through challenges and the toughest times. I also think the ability to admit mistakes and reflect is important because success does not come to people who are delusional or think they are perfect.
As a leader amongst our ranks, giving and receiving feedback is vital. How well do you take criticism?
I respond very positively to criticism. I don't think every criticism has to be for a good cause, but if someone criticizes you, it's probably because you gave them a reason to. A person who can admit when they make a mistake will also be able to see criticism in its true form.
Would you recommend our business to entry-level individuals?
I will recommend this career to those who can see themselves working under pressure and enjoy coaching and leading people. This is a tough business, but the results are rewarding as long as you put in the work. Therefore, those who have a great mentality and can maintain it will be a fit for this career.
Let's talk about goals! What are you working to achieve short-term and long-term?
My short-term goals are to improve my habits and skills every day and achieve discipline because that's all business relies on. I want to be promoted to Assistant Manager within the next six months and eventually expand into a new market. My long-term goals are to maintain the type of work I am doing while learning about investments to turn them into stable assets.
"I was a dreamer when I was younger, and I loved to daydream about what my future would look like. I realized dreams wouldn't mean anything without the execution of actions. Now my dreams become goals when I put them down on paper, so I see better what type of actions I should take to make them happen."
To date, what's been your biggest accomplishment?
My biggest accomplishment is realizing I have what it takes to be in this business. I originally studied engineering in college, but I was constantly having doubts about what it would look like. I was unsure if I could work with machines all day, if the money was good, or if I was even a great fit. I had the chance to go out there and see how good I am with people because I am likable, and I really enjoy that. I made a huge career switch, but I feel accomplished because I am clear that this is me for the next 20-30 years.
As you progress professionally, how do you measure your performance and growth?
Great performance creates rewarding results and, therefore, success. However, personally, I measure them by counting the struggles that I got through. Your life and career are a chain of ups and downs, and every time I get up from a failure, I count it as a success and await the next challenge. I am not afraid of challenges because the faster I get past them, the faster I am to succeed.
At OLN Inc, we believe in sharing knowledge. What is a piece of advice you received from someone close to you?
A great lesson my dad taught me was repetition is everything. No one can master a skill in a day unless they have special powers. He wanted me to dream big, so he applied for me to attend a selective middle school at twelve. The only way of getting accepted was to pass a test. I was terrible at math, so he made me redo 100 math questions until it became a reflex. No new questions or different types of problems; I was forced to repeat them at least ten times. Whenever I come across any objection now, the only thing I do is repeat, overturning it until it is no longer an objection.
Who inspires you?
The people who have succeeded in this business inspire me, especially the women. I understand my own shortcomings and acknowledge what I need to improve to be successful, but seeing the women who did it and set great examples made me believe I can do the same. It limits my limiting beliefs.
"Be open to learning new things and skills. You will be surprised by how little you know and how big the world is. Be open to change but stay resistant to your habits and goals. Whatever career it is, being consistent will advance you a great deal."
Bella, we are addicted to your energetic attitude and desire to be your best self. You inspire us all, and we are proud to have you as a member of our OLN Inc team! 2023 will be the year you take your next big career leap and step into a management role! With your work ethic, there is no question if you'll succeed or not.